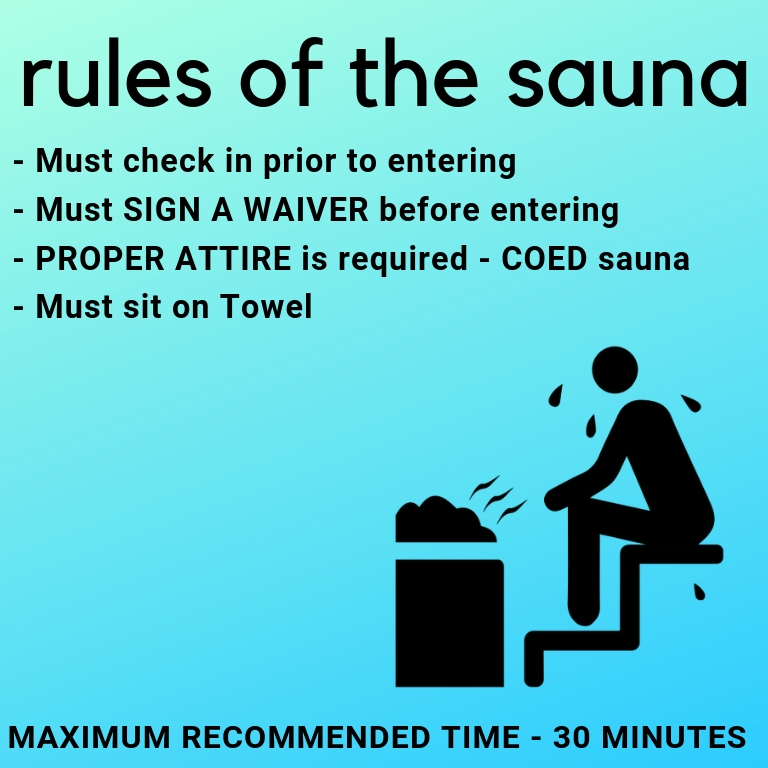 No Appointments Needed. Check in Required.
Bring a towel (or two if you want to shower afterward)
Towels we be available to purchase for $10 if you forget. 
WHY USE A SAUNA?
A sauna may do more than just make you sweat.
According to an articles like this one published online by JAMA Internal Medicine suggests men who engaged in frequent sauna use had reduced risks of fatal cardiovascular events and all-cause mortality, .
Increased Longevity
Regular sauna use has been shown to
considerably decrease risks of heart disease
and lead to a lower chance of dying from all causes.
Reduce Stress 
Studies have shown that sauna use can
balance the brain-adrenal (HPA) axis, which
is the cause of what is commonly known as
adrenal fatigue. And because sauna use
increases BDNF, this also helps with anxiety,
depression, and overall mood.
Detoxify
Sweating produces many health benefits,
including detoxification, improved skin tone,
stress relief, and improved blood circulation.
It also helps kill pathogenic bacteria and viruses.
Reduce Chronic Pain
Sauna can lower inflammation
and release endorphins.
Boost Immunity
Raising body temperature in saunas
can be an effective natural way to help
the body to kill off bacterial, fungal, parasitic,
and viral infections.
Improve Skin Health
Sauna use was associated in studies
with an improvement in skin hydration
and overall complexion.