Lost in Float's
Yoga Class Schedule
Make your mind and dream body a reality!
Join Today! Only $25 for 2 weeks for unlimited yoga (online or in studio! Find your fun, unmatched community where we teach smart, effective yoga and flexibility training to busy bodies who want more strength and more efficiency from their mind and body.
Whether you're brand new to yoga or established and ready to grow, Lost in Float Yoga will challenge you to practice at your highest level. Our classes are designed to bring out your bodies full potential, fuel your wellness adventure and your higher purpose. BONUS : FREE SAUNA and 50% off of all of our other services with a membership. You won't find a better deal or amazing classes! See you soon!
All Levels Hatha
All Levels Hatha
Hatha focuses on alignment, anatomy, body mechanics, and mindfulness. It combines gentle movements with breath. These classes are perfect for beginners as well as people with specific limitations and those recovering from injury. More experienced students who crave a more restorative practice or need to deeply relax and de-stress will also enjoy Hatha.
**Suitable for those with injury or limited mobility.
Beginners Yoga
A yoga class for those newer to yoga or those wanting a basic flow class. The beginner class introduces the fundamental principles of alignment and breath work in a flow of postures linked together by the breath. Students will be introduced to yoga postures through step-by-step verbal description and demonstration. Emphasis is placed on student understanding, safety, and stability within each pose and helps you feel more comfortable in the yoga practice. Gradually these poses will be linked together into a gentle flowing sequence. If you have never tried yoga this is the class for you, designed to meet the needs of those new to yoga as well as those seeking continued understanding of basic yoga poses. Students are welcome to repeat this class as often as they like.  Although this class moves at a slower pace than the other vinyasa classes, expect to be challenged both mentally and physically.
Evening unwind
Having a rough day? This gentle yoga class will allow you to put your day behind you, slow your mind down, and relax the body. Postures will be held longer and we will move at a more comfortable pace to allow students to make the mind-body connection with each posture. Yin and Restorative postures will help relax the body and invigorate the parasympathetic nervous system. You may even be ready for bed when you get home!
FLEXIBILITY FLOW
Even on those mornings when you can barely drag yourself out of bed (we've been there),  this class will lead you through a Vinyasa yoga sequence focused on opening the hips, quads and hamstrings, while also providing poses to strengthen your core and improve your balance. This class is a great compliment to any endurance program or sport specific training and is also perfect for anyone looking to gain more flexibility and mobility in their body. All levels and experiences are welcomed. The result: You'll walk away feeling centered, focused, and ready to own the day. 
Creative Vinyasa
Creative Vinyasa is the extension of Vinyasa flow where the movement branches out from the unusual sequence of Vinyasa. This class aims to allow your body to move with freedom & dance to the rhythm of your breath.
Power Yoga
This practice will strengthen your muscles and increase your flexibility with focus on proper alignment and conscious fluid movement. You will be connecting your breathing to mindful body mechanics for a vigorous exercise that flows from one pose to the next. This class will build mental and physical endurance with modifications available for all skill levels in order to be challenging but fun for everyone. Students will have the opportunity to practice and learn arm balances and inversions incorporated into a challenging but accessible sequence.
Reset & Restore
A slow paced class that focuses on restoring the body and relaxing the senses. Class consists of mild movements and gentle flow to get the joints and muscles ready for the deep restorative poses that follow. Restorative poses are all practiced on the ground with plenty of propping and support. Alternatives are given to help accommodate everyone. This class is appropriate for all levels and has an intentional open and supportive environment. Beginners and those recovering from injuries are welcome to attend.
Revive & Restore
This class is a combination of asana (traditional yoga poses) and restorative relaxation. During the first half of this class you can expect to explore some grounding and foundational yoga poses. We will work to create synchronicity between our physical movement and our breath as we move through a slow and gentle yoga flow. The last half of this class is the restorative portion. We will utilize various props and tools to relax the physical body and help alleviate some common irritations such as tightness and soreness that often occur as a result of daily activities. The ultimate goal is to improve mobility throughout the body. We will seal our practice with a restful savasana or meditation to further relax and reset the mind so that we leave this class feeling physically sound and cognitively renewed.
Slow Flow
Learn to combine breathing, flowing postures and meditation in this gentle, but deep approach to Vinyasa yoga. This slower-paced flow class allows time to explore the postures through multiple breaths while cultivating strength, flexibility, balance, and calm. When we slow down and focus on our breath we relax the nervous system & become stronger mentally and physically. This class is great for beginners as well as seasoned yogis.
Afternoon Flow
Afternoon Flow is open to all yogis who want a dynamic fluid class. Class opens with a mindful warm up to an enlivening flow (modifications and progressions are suggested) and closes with a conscious cool down. Come spend your afternoon with me and your mat!
Sweet Vinyasa Flow
Vinyasa Flow
The asana practice itself is dynamic, focusing on the movement of the breath and the body and the synchronization of the two. Flow is attained by setting a personal intention for the practice, linking the breath to the movement of the body and staying mindfully connected to the body not only in the postures, but also in the transitions.
Our Vinyasa Flow is a challenging, fun class with sequences from various schools of yoga. Cultivate inner awareness while building strength and flexibility.
The level of intensity depends on the style of the teacher.
Please note: **Vinyasa classes tend to be fast paced with shorter holds**
FLOW & GO
Flow and Go is a 45 minute flow. The goal of this class is to build heat and blood flow so you leave feeling motivated for the start of your day. Expect to start this class with a short warm up, faster than average sun salutations, one to two standing sequences, and a cool down. This class is all levels, but some knowledge of yoga is recommended.
Yin Yoga
Classes involve a relaxed practice of floor postures that are held from three to five minutes at a time. There are far fewer postures or asana in the Yin style of yoga as are found in more active styles. Although Yin yoga is a more passive practice it can be quite challenging due to the length of time postures are held. This Yin yoga class is open to all levels of students and is a perfect complement to a Yang or more active style of yoga such as Vinyasa Flow.
**Suitable for those with injury or limited mobility.
Morning Flow
An Ashtanga inspired practice of postures linked together by breath and movement. This is an ancient and powerful discipline for cultivating physical and mental health. Progressive techniques of breath, posture, and movement help to balance, stretch, and strengthen the body as well as focus and calm the mind. An Ashtanga series with variations to help you grow your practice.
vinyasa Flow
Vinyasa Flow is a dynamic class built to bring the movements of body and breath together, leaving you feeling centered and energized for the rest of your day. Expect a warm up sequence, sun salutations, standing sequences, and a cool down with a Shavasana at the end. The sequencing of the class is rhythmic and created intentionally with the sole purpose of bringing the mind and body together as a whole. This class is for all levels but some knowledge of yoga is recommended.
Come practice with us for  2 Weeks of Unlimited Yoga for only $25.
Experience some of the most fun and friendly Yoga Classes Lincoln, NE has to offer.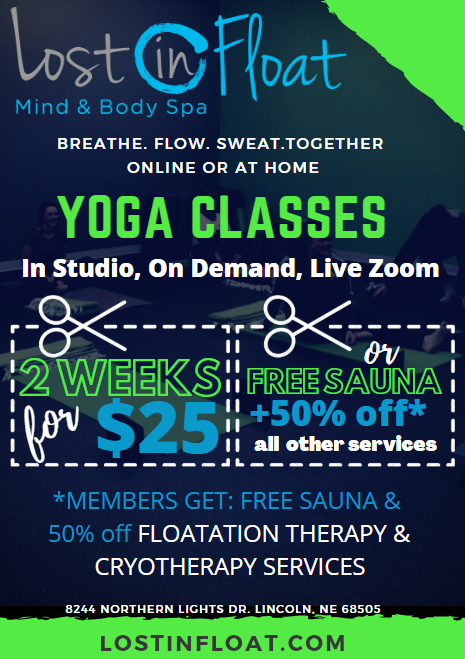 Grab a membership and enjoy all the additional perks:
FREE SAUNA
50% off all additional services
+ so much more
IN STUDIO YOGA
Quality classes that come with
PERKS & PRICES –
YOU WON'T FIND ANYWHERE ELSE!
LIVE ONLINE YOGA
Flow together – even when apart. Connect in real time classes streaming 7 days a week.
FREE SAUNA FOR MEMBERS
The yoga studio with perks you won't find anywhere else!