Yoga Class Schedule – Lost In Float Lincoln, NE
Our yoga schedule is officially ONLINE and ready for you! Secure your classes NOW! Due to the recent changes with COVID, we now require you pay and book online before coming to class. Class sizes will be limited. Please bring your own mat and other aids that you need.
We've recently added some new and exciting Yoga classes and times. As always, if you have any questions please reach out – we're happy to help.
All Levels Hatha
All Levels Hatha
Hatha focuses on alignment, anatomy, body mechanics, and mindfulness. It combines gentle movements with breath. These classes are perfect for beginners as well as people with specific limitations and those recovering from injury. More experienced students who crave a more restorative practice or need to deeply relax and de-stress will also enjoy Hatha.
**Suitable for those with injury or limited mobility.
Beginners Yoga
A yoga class for those newer to yoga or those wanting a basic flow class. The beginner class introduces the fundamental principles of alignment and breath work in a flow of postures linked together by the breath. Students will be introduced to yoga postures through step-by-step verbal description and demonstration. Emphasis is placed on student understanding, safety, and stability within each pose and helps you feel more comfortable in the yoga practice. Gradually these poses will be linked together into a gentle flowing sequence. If you have never tried yoga this is the class for you, designed to meet the needs of those new to yoga as well as those seeking continued understanding of basic yoga poses. Students are welcome to repeat this class as often as they like.  Although this class moves at a slower pace than the other vinyasa classes, expect to be challenged both mentally and physically.
Functional Fitness Flow
Functional Fitness Flow
It's a total mind-body workout that combines strengthening and stretching poses with deep breathing and meditation or relaxation.
Expect this class to be challenging, but accessible. You will begin to explore your Vinyasa practice on a deeper level. In the Vinyasa Open class, practitioners will be invited to advance into more challenging variations, but modifications will also be offered for those not quite ready to take a variation. The Fitness Flow class is for all levels, but some Vinyasa experience is recommended. Expect to sweat!
Rise & Sweat
Even on those mornings when you can barely drag yourself out of bed (we've been there), this spicy vinyasa flow sequence creates a gentle yet challenging morning practice, that anyone can do (no experience or toe-touching flexibility required!). Not only do these feel-good poses perk you up, but they'll also open your hips, stretch your shoulders, and lengthen your spine. The result: You'll walk away feeling centered, focused, and ready to own the day.
Power Yoga
This practice will strengthen your muscles and increase your flexibility with focus on proper alignment and conscious fluid movement. You will be connecting your breathing to mindful body mechanics for a vigorous exercise that flows from one pose to the next. This class will build mental and physical endurance with modifications available for all skill levels in order to be challenging but fun for everyone. Students will have the opportunity to practice and learn arm balances and inversions incorporated into a challenging but accessible sequence.
Rest & Restore
A slow paced class that focuses on restoring the body and relaxing the senses. Class consists of mild movements and gentle flow to get the joints and muscles ready for the deep restorative poses that follow. Restorative poses are all practiced on the ground with plenty of propping and support. Alternatives are given to help accommodate everyone. This class is appropriate for all levels and has an intentional open and supportive environment. Beginners and those recovering from injuries are welcome to attend.
Revive & Restore
This class is a combination of asana (traditional yoga poses) and restorative relaxation. During the first half of this class you can expect to explore some grounding and foundational yoga poses. We will work to create synchronicity between our physical movement and our breath as we move through a slow and gentle yoga flow. The last half of this class is the restorative portion. We will utilize various props and tools to relax the physical body and help alleviate some common irritations such as tightness and soreness that often occur as a result of daily activities. The ultimate goal is to improve mobility throughout the body. We will seal our practice with a restful savasana or meditation to further relax and reset the mind so that we leave this class feeling physically sound and cognitively renewed.
Sweet Vinyasa Flow
Vinyasa Flow
The asana practice itself is dynamic, focusing on the movement of the breath and the body and the synchronization of the two. Flow is attained by setting a personal intention for the practice, linking the breath to the movement of the body and staying mindfully connected to the body not only in the postures, but also in the transitions.
Our Vinyasa Flow is a challenging, fun class with sequences from various schools of yoga. Cultivate inner awareness while building strength and flexibility.
The level of intensity depends on the style of the teacher.
Please note: **Vinyasa classes tend to be fast paced with shorter holds**
*WARM* Yoga Classes
Our Warm classes are designed with the intention of offering a middle-ground between uber-sweaty, heated vinyasa and our non-heated flow class by setting temperature to a comfortably warm 75-80 degrees. You can expect all of the same elements that you receive in our other signature classes- an inventive and vigorous flowing of postures guided by deep and steady breath, along with the added ingredient of a glistening, purifying sweat. This delicious and energizing practice will of course end with a blissful savasana to soak in all the benefits of the practice.
This is the perfect class for those looking to transition into a warmer environment or those who are just looking to achieve an enhanced sweat.
Yin Yoga
Classes involve a relaxed practice of floor postures that are held from three to five minutes at a time. There are far fewer postures or asana in the Yin style of yoga as are found in more active styles. Although Yin yoga is a more passive practice it can be quite challenging due to the length of time postures are held. This Yin yoga class is open to all levels of students and is a perfect complement to a Yang or more active style of yoga such as Vinyasa Flow.
**Suitable for those with injury or limited mobility.
Come practice with us for  2 Weeks of Unlimited Yoga for only $25.
Experience some of the most fun and friendly Yoga Classes Lincoln, NE has to offer.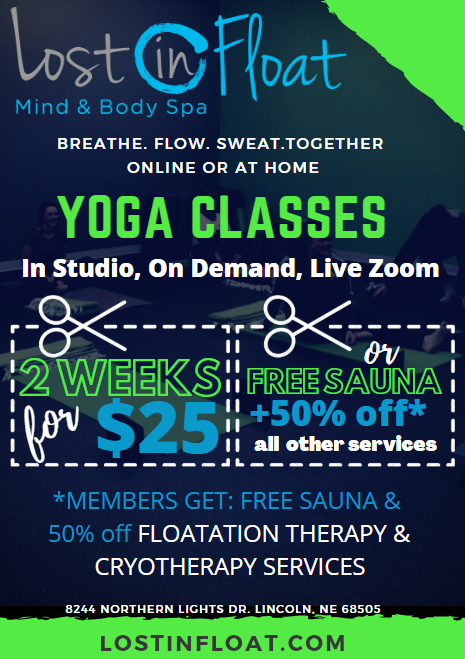 Grab a membership and enjoy all the additional perks:
FREE SAUNA
50% off all additional services
+ so much more
IN STUDIO YOGA
Quality classes that come with
PERKS & PRICES –
YOU WON'T FIND ANYWHERE ELSE!
LIVE ONLINE YOGA
Flow together – even when apart. Connect in real time classes streaming 7 days a week.
FREE On Demand Yoga
Practice whenever, wherever online with the yoga instructors you know and love.